On April the 23rdof 2016, the Mingyuan Education Entrepreneurial Plan MBA Communication Meeting was held in Jing Shi Building. Hosted by MBA Student Union Vice Secretary Fang Jinbao, BNU Education Foundation Project Management Department Head He Enji, BNU Business School MBA Center Director Huang Liangjin, MBA Center teacher Wang Lulu and two students who has received support from the Mingyuan Education Foundation were invited to share their experiences in this event.
Mr. He Enji introduced the history, development process, investment type and entrepreneurship program focus of Mingyuan Education Foundation. He emphasized that fund investors are more concerned with project contents and personnel integrity.


Lin Zheyu from the BNU Education Department shared his experiences of being chosen by the Mingyuan Education Foundation to support. After receiving guidance from Mingyuan, his product positioning is more clear, also having a more accurate control of the market. He said that "More communication with Mingyuan is required to receive prompt guidance, which is beneficial to the project's long term development".
Another successful Mingyuan supported project is "Qin Zi Mao", initiated by a current BNU MBA student – Wei Xinde. He proposed the three principles of entrepreneurship to those who are on the way of staring their own business: sincerity, grand vision, and persistence. He also said that after getting in contact with Mingyuan Education Foundation, intensive communication is always required to receive more guidance and help.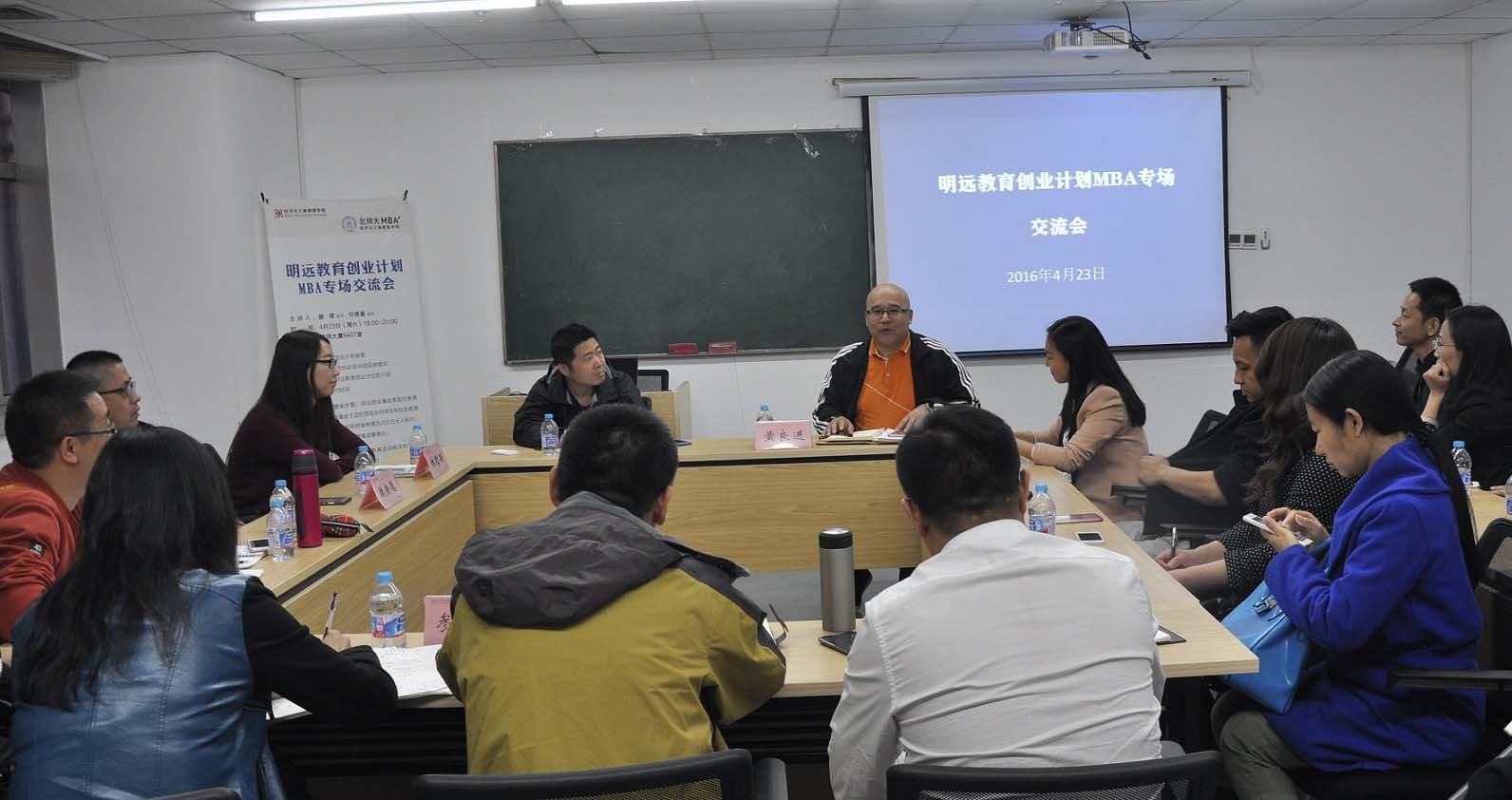 BNU Business School MBA Center Director Huang Liangjin expressed his respect to Mr. Gu Mingyuan, the founder of the Mingyuan Education Foundation. He shared his own experiences of 10-year entrepreneurial practice with attending students. Mr. Huang also introduced the current education training programs of BNU Business School, which could help MBA students to experience management practices in the field of education training, also to learn effective solutions and methods through the practice process.
In the Q&A section, students raised questions regarding thedifficulties and doubts that they've encountered during their entrepreneurial process, which were fully answered by the invited guests. Mr. He welcomes more students to apply for the Mingyuan Education Entrepreneurial Plan; and Mr. Huang stated that the BNU MBA Center is working on resource integration in providing more entrepreneurial opportunities and entrepreneurial guidance for BNU MBA students.

Mingyuan Education Foundation:
Public welfare project for supporting current teacher & students, alumni in education entrepreneurship. Initial funds: 2 million RMB. Initiative donor Wang Wei, EduChina Group President.
Sponsorship Fields:
All fields related to education activities, including primary and secondary school education, learning, professional training and development, children's games, curriculum development…etc.
Sponsorship Type:
In 2016, Mingyuang Entrepreneurship Foundation will be providing two types of sponsorship based on the different entrepreneurship requirements of different projects.
Seehttp://www.bnuef.org/news_con.aspx?type=304&id=900for more information.
(Article Submission: Zhu Zhenfeng)