Recently, BNU MBA Education Center has adopted an off-campus mentor system, which introduces various innovative modes for students' personnel training. Staring from 2016, the partnership between students and mentors has raised interests of many. The idea was to match each student with the right tutor in regard to his/her current working status, specialized area and future career goals. In particular, 12 students from P2 Class signed up for a study group working with the BNU alumna Ms. Shang Rong, who currently works for the Microsoft Asia-Pacific R&D Group.

University-Enterprise Interactions——Construct Internship Platforms for Mutual Benefits
The first study group meeting took place on February 25th, during which Prof. Shang Rong indicated that this mentor league partnership should not be a burden of any kind; instead, it would be a great opportunity to obtain assistance and resources.
Then she shared her proposal of "building channels for interns and enterprises bases" submitted this year. Prof. Shang believes that a good intern experience not only helps with self-evaluation and social networking, but also prepares students emotionally in adapting to their future working environment or starting his/her own business.
The students all agree on the idea of establishing a Wechat social platform. The purpose of this is to achieve higher efficiency of matching talented individuals with the corresponding enterprise by connecting student to organizations directly; also to achieve resource sharing.
Talents Fusions——Provide Top Resources for Students
Thanks to the mentor's advices, this study group also decided to set up a program called "Canvas", to gather internship information and keep a close relationship with the enterprises. The goal is to have the program launched within one year online.
Cong Qing took the leading role, and came up with a professional analyzing report, which covers the mode for start-up, the core value of the company, customer analysis, task distribution channels and client portfolio analysis.
Enterprise Classes——Broaden Horizons for More Opportunities
Enterprise classes are an innovative learning mode, which gained popularity both nationally and internationally in recent years. As an irreplaceable supplement to ordinary classes, this learning mode has obvious advantages in boosting students' innovative desires and team spirit building.
On April 13th of 2016, this MBA study group member students were invited by Prof. Shang to pay a visit to Microsoft co., alongside with EMBA students from London Business School. After the visit, a 30-minute communicating session was held. The cross-culture dialogue between our MBA students and London Business EMBA students was quite inspiring. Each feeling that they are able to gain a lot from this unique experience.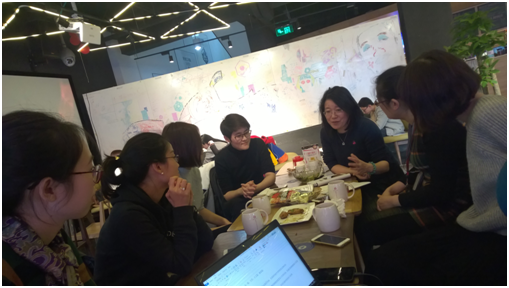 Article Submission: MBA 2015 P4 Wang Yulian
Photography: MBA 2015 P2 Chen Wenwen, Yao Xianjun